Recently, the high-end bedding brand Mengjie announced that actor and singer Xiao Zhan will be the brand's spokesperson. As soon as the news came out, a wave of grass-planting and buying was set off across the Internet. Since the date of the official announcement, the number of online topic discussions on the entire network has exceeded 1.2 billion. The fashion blockbuster "Sharing Dreams" starred by Xiao Zhan has been praised by a large number of netizens, and the entire network has been viewed more than 40 million times. The endorsement blockbuster has also landed on more than 100 outdoor large screens in mainstream cities across the country and New York, USA. In shopping malls and transportation hubs, you can see the scenes of fans checking in and passers-by watching.
The Mengjie Tmall flagship store and major offline stores are frequently sold out and out of stock, which not only reflects the extensive influence of the spokesperson, but also fully demonstrates Mengjie's high-end quality strength. Consumers have expressed that they are high-end fans of Mengjie Bedding and Xiao Zhan.
The whole network snapped up Xiao Zhan's "same style" strength out of the circle
Once the news of Xiao Zhan's endorsement of Mengjie was released, it attracted consumers' attention and swept the entire network.
Within a few hours after the official announcement, Mengjie's Tmall flagship store appeared to be sold out, and various offline stores of Mengjie also set off a rush to buy in line. In addition to the spokesperson effect, it is also the consumer's appreciation for Mengjie's high-end quality. For sure. Netizens who bought have posted pictures and praised "good product quality" and "Mengjie advanced". This panic buying has even spread to foreign countries, and even overseas fans are being planted, and they are seeking to purchase on ins.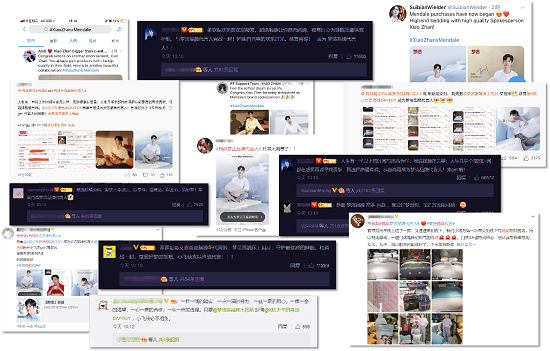 (Fans rave reviews)
Many fans came to the store to check in while rushing to buy the products, and they came across "spokespersons" by chance. Xiao Zhan's warm and cordial image complements the Mengjie bedding products that focus on high-quality life. Together, they form the imagination of many fans and consumers for a better life.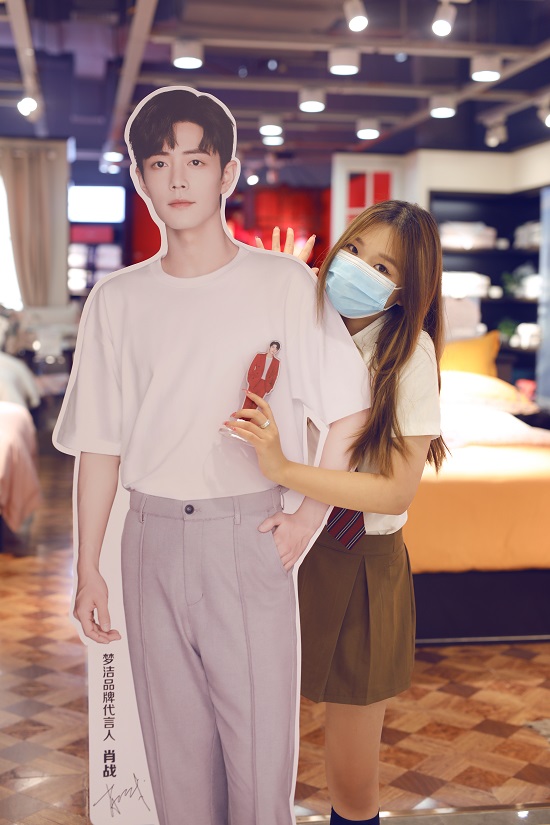 (Fans check in at the store)
Qiangqiang and Mengjie Xiaozhan join hands to create good dreams
Behind the hot discussion is the concentrated release of the high attention of Mengjie and the spokesperson, and it is also a strong resonance caused by the high degree of strength and temperament of the two parties. As one of the most influential male artists in mainland China, Xiao Zhan has always adhered to his original aspirations, focused on his acting career, and continued to improve in the fields of film and television, music, drama, and other fields, winning public praise for his strength.
Since its inception, Mengjie, which has put key words such as focus, high-end, and innovation throughout the company's development process, is the oldest brand in the industry, focusing on high-quality bedding for 65 years.
Mengjie selects 100% global raw materials to control product quality from the source. It strategically cooperates with global luxury-grade rare raw materials suppliers, and has the priority to select top raw materials. In May 2021, Guangxi Inspection and Quarantine issued the highest 7A raw material standard and high-end bedding standard in the bedding industry. Mengjie took the lead in introducing the 7A standard and obtained the "High-end Bedding" certification by the Guangxi Inspection and Quarantine.
As a major carrier of the brand image and concept, Mengjie masters many advantages such as raw materials and design to provide high-quality products and create the ultimate dream experience. The "dressage" products launched this time are carefully combed Xinjiang long-staple cotton, which is delicate and skin-friendly. "1956S" also uses the same fabric, which is not only soft and skin-friendly, but the added silk protein material can also nourish the skin, which is highly recommended by experts and netizens.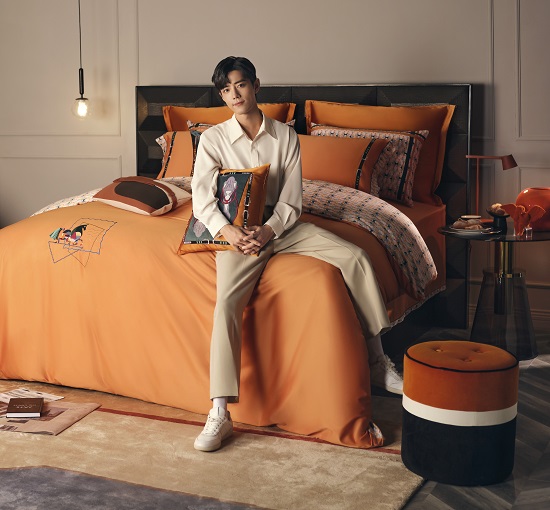 (Mengjie combed long-staple cotton embroidery four-piece suit-dressage)
In order to meet the needs of consumers to show their individuality and enjoy a quality life, Mengjie continues to improve its craftsmanship and design. For example, a bedding research center was established in France, and former LV designer Vincent du Sartel was hired as the creative director of Mengjie's global bedding research and development center (Paris, France). Together with Chanel and LV designers, they released a joint series to further promote Mengjie's global design.
It can be said that the resonance of professional strength, the pursuit of excellence, and the collision of high-level textures have created the "win-win" situation brought about by this strong alliance.
Evergreen, leading the global high-end bedding fashion
In the past two years, long-termism has become a popular vocabulary in the economy and society.
Mengjie is a model of long-termism. Since its establishment in 1956, Mengjie has always focused on high-end bedding products. Inside the company, the chairman Jiang Tianwu's words are well known by many people: make a quilt for a lifetime, and make a quilt into a big business.
Today, Mengjie has not only obtained a total of 729 patents, but has also become the industry's first company in the industry to obtain authoritative product quality certification from Germany, the United Kingdom, Switzerland and other countries, and its quality is higher than national and international standards.
This year, the company has launched a high-end upgrade strategy and continued to make continuous efforts in products, channels, and operations to fully release high-end advantages and enhance consumer experience. This signing of the brand spokesperson is also a step in the high-end strategic layout.
(Mengjie flagship store)
It can be said that Mengjie has insisted on ingenuity and quality since its inception, and now it is fully implementing a high-end strategy, from the upgrading of the store image, improving services, marketing and other multi-dimensional efforts to create higher-quality products and services to meet the high-end consumers and the market. change. In the future, Mengjie will continue to adhere to its mission, create more outstanding products, and lead the high-end fashion of the domestic high-end bedding industry with ingenuity.
Shell Buttons,Coconut Shell Buttons,Shell Shaped Buttons,Real Shell Buttons
Jiangmen Mingcheng Button Co., Ltd. , https://www.btn-button.com