November 2011 Bagee deer brand children's clothing formally stationed in Yanchuan County, Shaanxi Province, So far, Bagee deer brand children's clothing in the northwestern region of the market layout and an additional important point, which is not only the rapid expansion of Bagel deer in recent years territory Confirmation, but also Bangui deer national modernization, repositioning the market, and further strengthen the determination of the main domestic children's clothing industry. Banji deer brand children's clothing Yanchuan County, Shaanxi Province store Bangji deer brand children's clothing from entering the market since the "Bangji deer children's clothing - to create first-class double product (quality, taste) a new era" responsibility! The success of the era of product marketing into the era of cultural marketing, while ensuring product Seiko secret agents at the same time, more as a cultural carrier, given the clothing function beyond the family, on the family, about the inner world of the essence, to train children unique Aesthetics, elite children's growing up, charisma and leadership qualities, looking forward to the future extraordinary achievements and taste. The "sports, leisure, personality," into every corner of the lives of children and adolescents, deduce the cuteness, innocence, wisdom and dreams of children. Dongguan Zhuo Yi Hao Clothing Industry Co., Ltd. (Bangji deer brand children's clothing) was established in 2008, under the Dongguan Ying Hao Garment Industrial Co., Ltd. is a collection, research and development, production and sales in one of the modern apparel business. Bangji deer children's clothing products located in children aged 3-15 years, "fashion, sports, leisure" is the brand style that Bangji deer has consistently adhered to, the company franchise business model with self-franchise chain, has been developed more than 100 Home chains, marketing network throughout the country a number of provinces and cities. Established in 1989, Dongguan Yinghao Jiashi Garment Industry Co., Ltd. is located in Liaobu Town, Dongguan City, Guangdong Province. Its predecessor is a private-owned enterprise specializing in the processing of sweaters and undertakes the orders of major clients at home and abroad. Factory covers an area of ​​25,000 square meters, with a brand new, stylish modern plant, convenient transportation, beautiful environment, fresh air, superior welfare; direct production employees 1,500 people, including production management and technical personnel 120 people, annual output 3.5 million. Our company consists of more than 10 sets of looms at the beginning, and has developed into a modern garment enterprise specializing in the design, production, processing, sales and logistics since its establishment. Nowadays, we are engaged in many kinds of sweater companies such as brand operation, OEM, ODM and wholesale agency. I Division has strong technical strength, with skilled team of professionals, "quality" to survive, "innovation" and development, the spirit of "customer first, and common development" principle of operation, the leaders of all parties concerned about the support and support Under the continuous development and growth.
Our world famous dreamy Tibetan Lamb Fur pillow made from 100% real soft and fluffy Tibetan lamb fur on one side of the pillow,backed with faux suede backing.
All of our Tibetan lamb Fur Cushions are fully lined on both the front and back to provide stability and longevity.
You can fill the pillow with a stuffing material or pillow of your choice. They add a touch of softness, beauty, and warmth to any room.
The Tibetan Lamb Fur Pillow fur is over 3.5 inches long. All colors are professionally dyed.
Tibetan lamb fur pillow is a luxurious fur that is incredibly soft, silky and curly.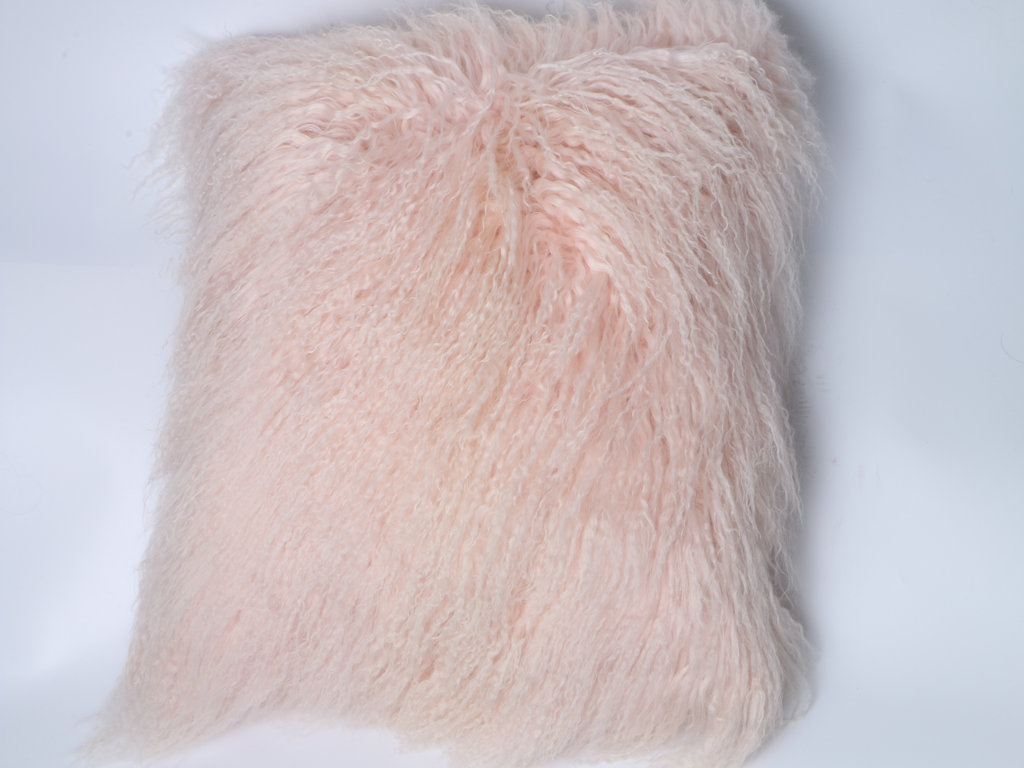 Tibetan Lamb Fur Pillow,Pink Tibetan Lamb Fur Pillow,White Tibetan Lamb Fur Pillow
NINGXIA WUZHONG JINGYI FUR PRODUCTS CO.,LTD , http://www.nxjyqp.com