On October 11, 2020, the Bronze Lucia brand held a 2021 spring and summer new product launch event at Shanghai Fashion Week. Many brand friends, artists and friends came to support, including Ding Dang, Zhang Da, Lai Meiyun, by2 (Sun Yu, Sun Han), Guan Li , Guo Xiaoting, Cao Yuchen, Lin Xiaozhai, Li Yan and surprise performers sis group (Hong Yinuo, Xu Ruoqiao, Xu Jialin) helped support. (Artists are ranked in no particular order)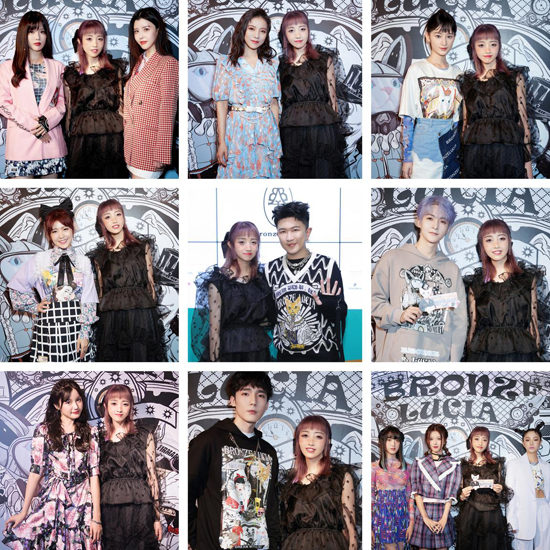 Fashionista Xu Fengli, founder of the well-known IP Wuhuangwanshou Baicha, well-known Douyin experts Wang Naiying, Hu Axiaoxiao, Gu Damei, and well-known fashionistas Rika0_0, Uni Yinger, Blackheart Minnie, Nikki-Min, AvaFoo , Qian Ge-BUNNY, Ye XIV, Dong Guadi Di, Justin Xu Boyang and others were present to support, bringing everyone a visual feast of extreme brilliance and fashion personality. (Fashionistas are ranked without distinction)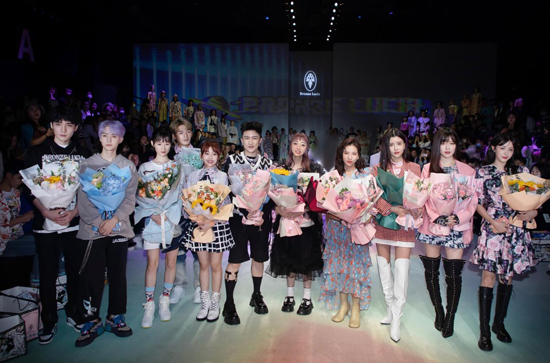 This season, the brand cross-border in many ways, adding 13 lifestyle co-branded series, is an out-and-out co-branded harvester in the fashion industry, bringing everyone a visual feast full of freedom, fun, and stylish personality.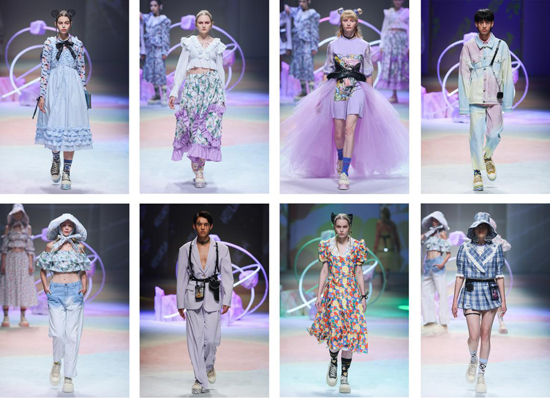 Moreover, in addition to launching a joint series this time, Bronze Lucia paid special attention to marketing interaction with business. After the fashion week, consumers of Bronze Lucia will receive preferential benefits for many co-branded companies and brands at the same time, fully realizing the cross-border linkage of various projects of the fashion brand conglomerate.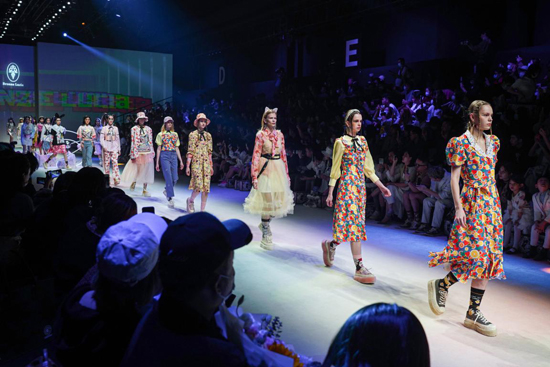 Bronze Lucia x Xiaolongkan
"Taste with heart, quality with conscience", Xiao Longkan engraved the taste of traditional Sichuan-Chongqing hot pot in his tongue. As a new-generation hot pot brand, Xiaolongkan has opened 1,000+ brand stores around the world, possessing the same cultural genes as Chinese young people. Xiaolongkan constantly explores new fields and new directions, and constantly innovates, which fits Bronze Lucia's philosophy very well: inspire inspiration, fresh trends, bold innovations, and create more possibilities. The joint crossover new products were first released at Bronze Lucia Shanghai Fashion Week, and the two parties even set up the After Party after the show in Xiaolongkan's flagship brand "Xiaolong Fandajiang" Shanghai Bund store. The main creative team of Bronze Lucia, important leaders of Xiaolongkan Group, celebrity close friends and many trendy friends were all present. In 2020, Bronze Lucia and Xiaolongkan have established a long-term strategic cooperative relationship. They are important partners for each other to jointly create a hot and fashionable lifestyle.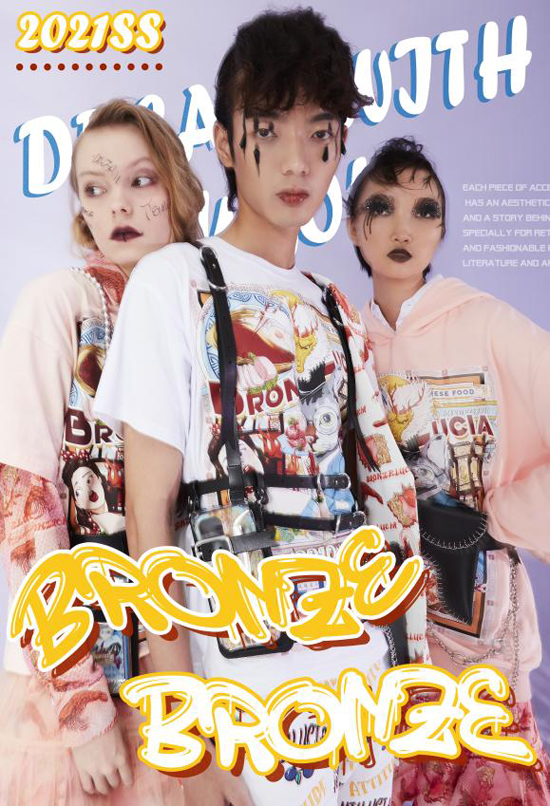 Bronze Lucia x HARMAY plum
"We will embrace the independent, faithful and pursuit you with a better self." HARMAY plum is a new-generation retail brand with stores in Hong Kong, Shanghai, Beijing, Chengdu and other places. It does not follow the traditional physical store model, but complements its online field through an experiential shopping journey, so that every beauty-loving woman can explore here and make new discoveries every day. The Bronze Lucia and HARMAY Mei co-branded series was officially released at Shanghai Fashion Week, conveying the concept of "pets without discrimination" with a fashion cross-border. The joint tooling will be unveiled at HARMAY Mei Shanghai Xintiandi store from now on, showing individual and independent fun. This cooperation also means that Bronze Lucia is trying more areas and exploring more business linkages in depth. In addition to the launch of clothing collections and lifestyle items, this collaboration will also jointly create a celebrity dressing room, Fashion+Beauty, to explore a new, unique and futuristic life together. More Bronze Lucia and HARMAY plum series will be sold simultaneously in HARMAY plum stores nationwide in late November, so stay tuned~
Bronze Lucia x Snow MARRSGREEN beer
"Although the world is boring, fortunately I will create." Snow Mars Green Beer broke the conventional impression of beer and made new trends. This time, it is co-branded with Bronze Lucia, IP value blessing, and jointly launched the Snow MARRSGREEN "Beer Manor" co-branded tank and its surroundings, with the brand IP cat as the protagonist, creating an excellent story. The cat grows up in the colorful beer estate that Lucia outlines for Mars Green. It is the embodiment of beer inspiration and the guardian of this snowy estate. With the spirit of craftsman, it creates fine wines. The more creative, the more fashionable.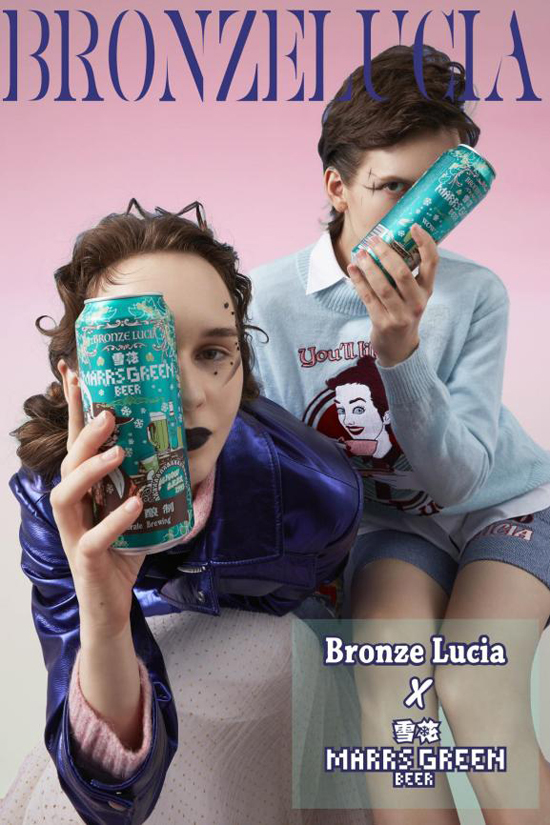 Bronze Lucia x Beifu Qingdao Fashion Industrial Park x Laoshan Mineral Water
Laoshan Mineral Spring was started in 1905 and was the first bottle of mineral water in China, creating a precedent for mineral water. This year marks the 120th anniversary of Laoshan Mineral Spring. Beifu Qingdao Fashion Industrial Park is about to open. This time Bronze Lucia will add Laoshan logos and elements with historical elements to the clothing, and also launch Laoshan White Flower Snake Grass Water and other classic products co-branded drinks. Hope Combining fashion and innovation spirit, passing traditional time-honored brands to everyone's heart, and carrying out cross-industry innovation together to win more "young hearts". In the youngest and fashionable way, retell the century-old story of the traditional time-honored brand.
Bronze Lucia x Are you hungry x Mojie's tea x The taste of national treasure
"Grandpa's tea has a taste called home, like a landscape painting with splash ink."
This time, Bronze Lucia and Ele.me's local life national tide column "The Taste of National Treasure" and J-TEA Mojie's tea (an independent tea brand under Mojie E-sports co-founded by Jay) will jointly create [Student Zhou Maple Leaf Milk Tea] "Grandpa's Tea" Fashion Week Special Edition.
Inheriting Lu Yu's attitude, combining the style of the new generation, using ink and tea elements, blending Chinese landscape painting with traditional Chinese tea culture. The collision of food and culture, innovative fusion to create a tasteful national trend, this joint themed store will be unveiled at J-TEA Magic Jie's Tea Shanghai store from now on!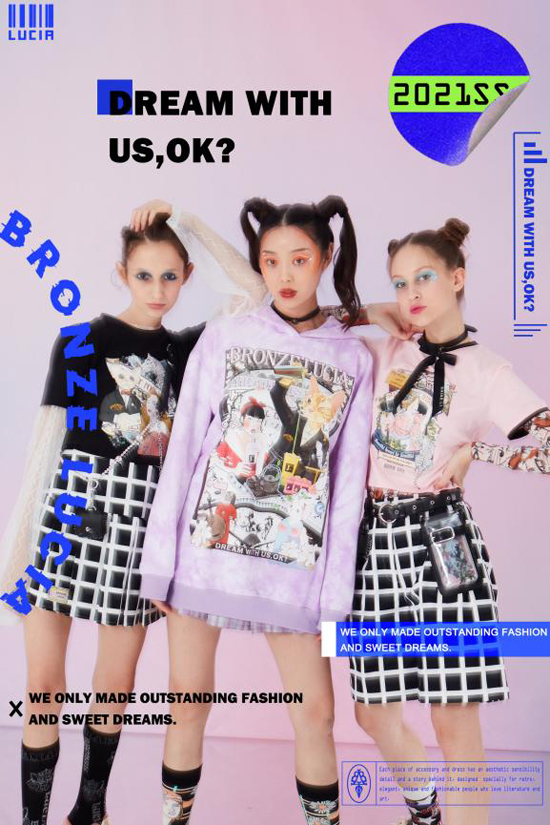 Bronze Lucia x Are you hungry x Volunteer League
"There is a group of children, they are like the farthest star in the night sky, silent forever in their own world. They need more love and company to support them in continuing their dreams of painting." Pets can accompany and heal In addition, this time the Sifang joint name uses autistic children's drawings as the material, combined with the Bronze Lucia brand's classic IP image cat, to create a public welfare joint T-shirt, which jointly depicts the children's inner fairy tale kingdom. From the perspective of art, pay attention to children with autism, hold their hands, walk into their hearts together, and help children realize sustainable social value through painting copyright revenue.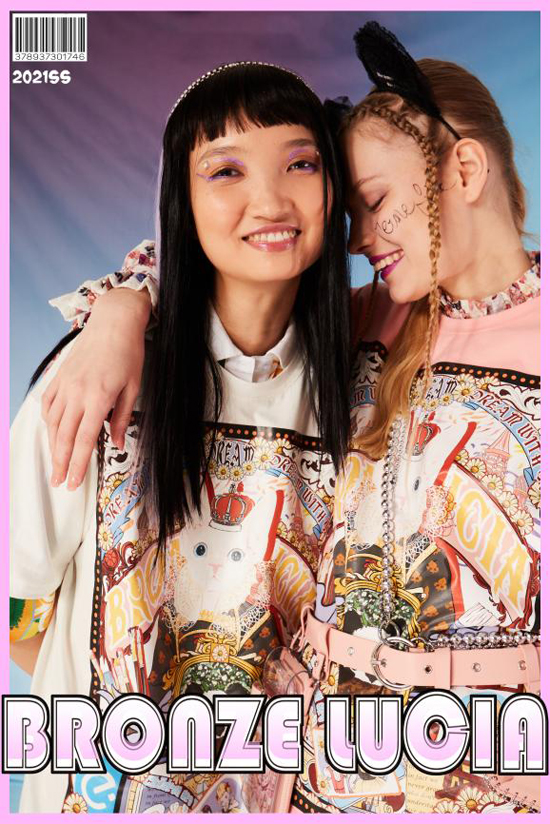 Bronze Lucia x Are you hungry x Tarzan Shadow Play
"Seven tight, eight loose, nine stop." This is a proverb when performing shadow puppets, which means that shadow puppets usually require eight people to work together. If there are seven people, the whole backstage will be more tense. If there are nine people, then It means someone is idle. Taishan shadow puppets created the precedent of "ten no leisure". In 2007, Taishan shadow puppets were rated as "National Intangible Cultural Heritage" by the Ministry of Culture and Tourism of China. This time, Lucia, the founder of Bronze Lucia, paid a special visit to Mr. Fan Weiguo, the seventh generation inheritor of Taishan shadow puppetry, the old predecessor of the shadow puppet industry, to learn about its history and culture. Interpreting intangible heritage culture with Chinese youth style, "new" inheritance and "new" dissemination, so that young people nowadays pay attention to the unique charm of intangible cultural heritage, let the intangible cultural heritage deeply integrate with the market, and promote the sustainable development of the intangible cultural heritage industry.
Bronze Lucia x Are you hungry x Bamboo Dragonfly Blue Knight
"Bamboo Dragonfly is actually a display of the blue knight's affectionate and interesting image. You think their work is hard and boring, but the blue knight can play with the simple fun of this life." The blue knight is the delivery brother of the Ele.me platform. Although this bamboo dragonfly can't really make people take off in place like Doraemon, and it is not made of bamboo, but it has made countless takeaway boys' lives more fun, making countless hungry users see The takeaway boy smiled happily and narrowed the distance between the customers and the Blue Knights. In this joint name, Bronze Lucia Fashion helps, and Ele.me Innovation is jointly promoting, so that more people can see more aspects of charity.
Bronze Lucia x EXCELSIOR
EXCELSIOR, the creator of "biscuit shoes", retro industrial style, each pair is very classic. In this Shanghai Fashion Week, Bronze Lucia and EXCELSIOR have done ingeniously. The BOLT Corduroy corduroy series will create a limited edition of Shanghai Fashion Week. The sweet and cool ghost horse subverts the conventional impression of canvas shoes and displays them in a creative way. The charm of industrial aesthetics, walking together in Shanghai Fashion Week.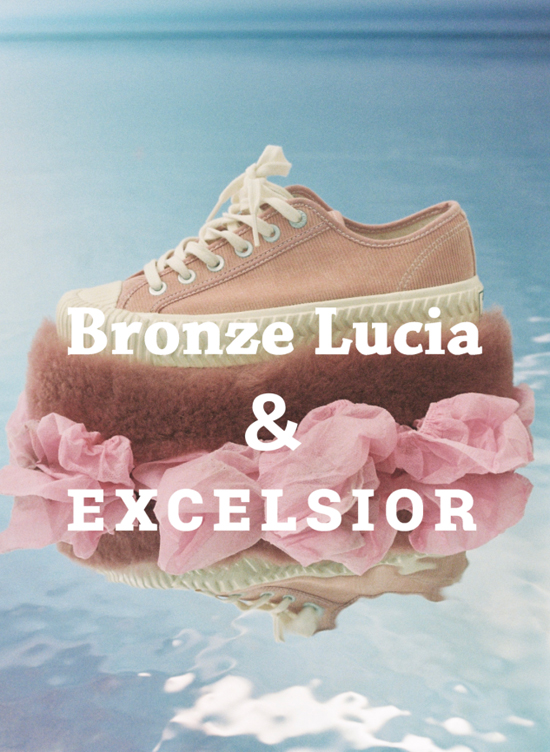 Bronze Lucia x WAVES Manga
The collaboration with the visual fashion magazine WAVES Manchao is a fashion fusion. The concept of Manchao's pioneering trend is exactly the same as Bronze Lucia's Chinese youth style. The collision of colors and personalized printing patterns on the show enriched the atmosphere of the scene and made people recognize at a glance. WAVES Manchao teamed up with Bronze Lucia to create an avant-garde fashion magazine blockbuster, advocating a life attitude that dares to challenge and try hard in the new era.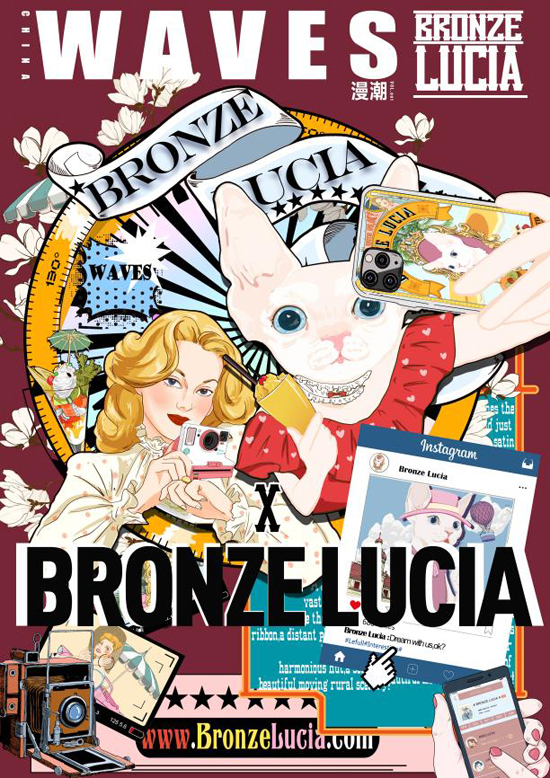 Bronze Lucia x SHINE LI
"Let's Imagine (Let's Imagine)." The hat brand SHINE LI, the design style is simple, exquisite and full of fun, constantly breaking through the design and reconstruction of materials. In this Shanghai Fashion Week, Bronze Lucia and SHINE LI launched a joint hat and hair accessories, combining the classic ears of the brand with animal elements, and launching a friendly show for the young market, which is unique and full of fun.
Bronze Lucia x BabyJumbo by GOFEFE
"Future is the inspiration for the final set of GOFEFE's creation." The future of BabyJumbo by GOFEFE is infinite possibilities and an infinite reflection of the past and the present. Through ingenuity and ingenuity, many knowing smiles at this moment have been turned into intimate and interesting designs. This time, Bronze Lucia and GOFEFE jointly launched the show limited body accessories, integrating the designer's love and curiosity for the world into every piece of leather, turning the show into a pioneering party full of power and design.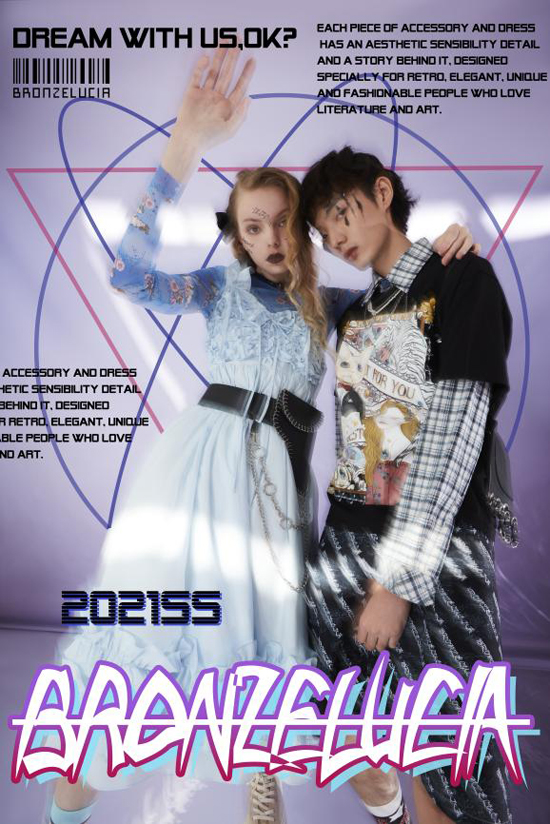 Bronze Lucia x A Zen Little Monk
The well-known IP Yizen Little Monk has more than 80 million fans on the entire network. The little monk Yizen is full of curiosity and enthusiasm for the world, and finds fun in the ordinary. This season, Bronze Lucia used the image of the healing Chinese-style animation little monk Yizen and the brand-featured retro printing elements to break through the barriers of the dimension to create a joint series, which became a highlight on the show.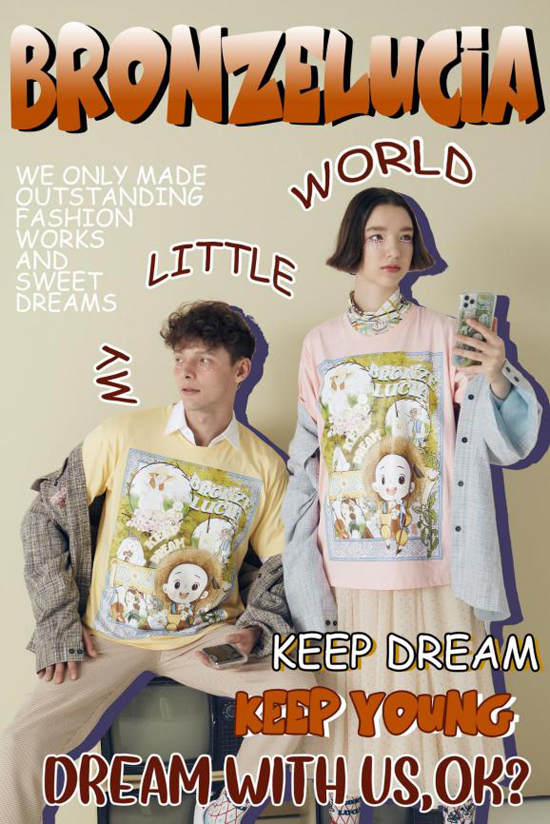 About the brand:
Bronze Lucia, translated as Bronze Lu Xiya, is a limited edition exclusive handmade jewelry brand of the same name founded by designer Lu Xiya in 2013. It joined the women's clothing line in 2015. In 2017, it transformed into a full-category lifestyle fashion brand. Its clothing, mobile phone case 3c, and accessories products are highly popular on the Internet. The products are sought after by fans in the entertainment circle, fashion media, bloggers and other fans. Thousands of celebrities with the same product are hailed as age-reducing artifacts by consumers.
The brand's original Chinese youth style, retro, young and fashionable, has a sense of fairy tales and a strong literary atmosphere. It is deeply loved by the post-95 consumer group and is the pioneer brand of today's young Chinese brands. The brand concept adheres to the Chinese youth style of "elegant and unpretentious, unconventional". Committed to creating exquisite and interesting lifestyles and international fashion items that represent the current young personality. Through rich color collisions and unique aesthetic concepts, fashion products with rich artistic beauty and collection value are created. Infused with girlish feelings, transcending gender boundaries, presenting the fashion attitude of young people bravely chasing dreams. Each single product has beautiful details and emotions and behind the story, designed for retro, elegant, unique, and artistic fashion people.
Lucia is the founder of the Bronze Lucia brand. Member of Fashion Art Committee of China Fashion Designers Association. Worked as an intern at the Anna Mode International Film Fashion and Modeling Foundation in Italy and graduated from Beijing Institute of Fashion Technology. The post-90s designer set a new benchmark and founded the Bronze Lucia brand. In 2017, the brand transformed into a full-fashion lifestyle brand. The brand has been repeatedly used by "Vogue", "Bazaar", "ELLE", "Jiaren", "Red Show", "Fashion COSMO", "Petty Bourgeois Chic", "Men's Wear", "Red Man", "Costume Design" Reports on fashion magazines and well-known websites such as "Master Magazine", Global Net, Phoenix Net, HAIBAO Net, Fashion Yoka Net, etc., and was invited to participate in the recording of CCTV, Beijing and Shenzhen radio programs.
In 2014, he won the APEC leader costume design commemorative certificate; he won the "Outstanding Original Designer" award in Beijing International Design Week; in 2016, he was invited to participate in the "Chinese Cultural Masters" stamp series issued by China Post to be issued overseas; its products were received by entertainment stars, A crowd of fans like fashion media and bloggers craze in pursuit. Thousands of celebrities with the same product are praised by consumers as an age-reducing artifact.
Solemnly declare: the text and pictures of this article are provided by the brand, only for the purpose of conveying more information, please carefully verify the authenticity of the article! If there are resources that violate your rights, please let us know and we will delete them in time
Fashion Fabric,Cotton Twill Fabric,Woven Rayon Fabric Soft,Stretch Air Layer Fabric
Shaoxing Xiaotrain Imp.&Exp Co., Ltd , https://www.xiaotrain.com